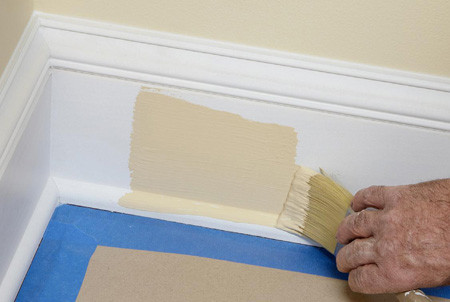 Painting is one of the essential and final touches that can improve the aesthetic appearance of any home of business since it creates a special look with the variety of colors being used. Cincinnati Handyman includes both interior and exterior painting services on its list of professional handyman works for residential and commercial clients in Cincinnati. You can rely on the quality of our painting services since we use only the finest paint products supplied by the industry's most trusted manufacturers.
Interior Painting Service
Our professional handyman crews are equipped with the essential tools to guarantee that your interior painting are evenly and properly distributed on whatever surface you may require. We use various methods in delivering our interior painting work. You can choose the spraying method if you want the job done quickly or you need the painting work on hard-to-reach areas. The overall result of spraying is often excellent and brings customer satisfaction. We also do the traditional brushes and rollers method, yet most of the time this technique does not give long-lasting effects.
Below is a list of Interior Painting Services that we offer:
Baseboards
Basements
Bathrooms
Block walls
Built-in-shelving
Cabinets
Ceilings
Concrete floors
Decorative trim
Doors
Garages
Hardwood floors
Kitchen cabinets
Kitchens
Mantels
New drywall
Paneling and wainscot
Plantation shutters
Repainting
Spray finishes
Staircases
Trim moldings
Vanities
Walls
Windows
Exterior Painting Services
We understand that protecting your home or office against various elements is not easy and calls for proper care and maintenance. However, it's not all the time that you have the knowledge, skills or equipments to secure these external areas.
Being in the professional handyman service for many years already, we have learned to balanced proper equipments, skills, materials and preparations to guarantee that every exterior painting work we deliver will have a long lasting finish. Our wide array of tools ensures that our crews are well-equipped to deliver quality work on your property without any disturbance.
Below is a list Exterior Painting Services that we offer:
Architectural buildings
Cedar siding
Decks
Doors
Fences
Fiber coatings
Garages
Gates
Metal roofs
Patios
Railings
Shutters
Siding
Tanks
Thresholds
Windows
Wrought iron
We never compromise on the quality of our work, so we make sure that our painting crews always follow the complete, standard process of painting that will promise excellence and consistency of work throughout the procedure.
We will assign project managers that will give you recommendations about the ideal and important preparations needed for any painting project such as bleaching walls to remove the growth of fungi or mold. We will also advise you with the kind of paint that will be suitable for the area or material that requires the painting work.
Whatever painting requirement you may have, we got the skills and expertise to apply the highest quality paint finishes to your interior and exterior painting needs. Call us now if you need our professional painting services for your Cincinnati home or office.